Russia will 'maximize' arms production after treaty exit – ex-president
Dmitry Medvedev declared "good riddance" after MPs backed the termination of Moscow's commitment to a treaty with NATO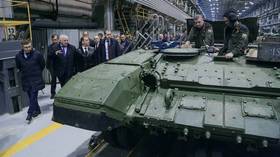 Russia will field arms where it wants on its territory and step up weapons production after its withdrawal from the Treaty on Conventional Armed Forces in Europe (CFE) with NATO, former Russian president Dmitry Medvedev has said.
"Good riddance," Medevev wrote on Telegram on Tuesday after the Russian parliament unanimously supported the law allowing Moscow to denounce the agreement, signed in 1990 by NATO and the Warsaw Pact countries, comprising the USSR and its allies in Eastern Europe.
The CFE limited the number of tanks, armored vehicles, artillery, helicopters and aircraft allowed to be stationed in Europe in order to preserve parity and prevent the sides from amassing forces for a blitzkrieg-type offensive.
"This document lost its relevance for us back in 2007," the former president, who now holds the position of deputy head of Russia's Security Council, said. Russia suspended its participation in CFE in 2007, accusing NATO of repeatedly violating the provisions of the treaty and citing the US-led bloc's refusal to ratify an updated version of the agreement.
After Moscow's withdrawal from the CFE and suspension of its other international obligations, "nothing prevents us from placing our weapons where we want to in order to protect our national interests, including in our Russian part of Europe," he wrote.
Medvedev also vowed that Russia was now going to "maximize the production of weapons, military equipment and means of destruction."
The former president sent his best regards to French leader Emmanuel Macron, commenting that withdrawing from the CFE "by his logic, is also a geopolitical defeat of Russia."
He was likely referring to comments made by Macron during an interview with the L'Opinion outlet on Sunday, in which he expressed the belief that Russia had already suffered a "geopolitical defeat" due to the conflict in Ukraine and had become more dependent on China.
In February, Russia suspended its participation in New START, which remained its last bilateral nuclear arms reduction agreement with the US. Moscow explained the move by Washington's refusal to allow Russian inspections of its nuclear sites and alleged use of the Ukrainian military to carry out proxy attacks against Russia's strategic aviation. However, the Russian side assured it would continue to inform the US about its ballistic missile launches as a gesture of good will.
You can share this story on social media: