Wagner boss denies talking to Kiev about selling out Russian troops
An alleged meeting with Ukrainian intel agents in Africa would have been "physically impossible" for him to attend, Evgeny Prigozhin has claimed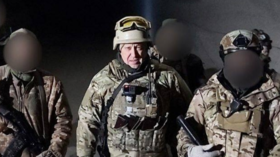 The head of Russia's Wagner private military company, Evgeny Prigozhin, has claimed it would have been "physically impossible" for him to meet with Ukrainian military intelligence agents in Africa to make a treasonous proposal to them. The alleged contacts were reported by the Washington Post based on purported leaks from the Pentagon.
The outlet claimed on Sunday that classified US documents, which made their way to the public through a Discord server, claim there had been communication between Prigozhin and Ukrainian military intelligence (GUR).
The Wagner head allegedly sought to have Ukrainian troops withdraw from the area around the bitterly contested city of Artyomovsk (known in Ukraine as Bakhmut) in order to ease the pressure on his own troops for a while, in exchange for information on Russian troop positions elsewhere. The alleged contacts were said to take place by phone and an in-person meeting in Africa, where the Wagner Group is also active.
Prigozhin dismissed the report as "speculation dumped by the Washington Post" and insisted he had not been to Africa since months before the hostilities in Ukraine broke out in February 2022. He suggested that the newspaper was overstating the supposed intel or had fallen victim to planted disinformation.
The Post said two Ukrainian officials confirmed the contacts between Prigozhin and the GUR, but when the newspaper asked Ukrainian President Vladimir Zelensky about them, he appeared to be angered and demanded to know who the sources in his government were.
"Who is talking about the activities of our intelligence? Because this is the most severe felony in our country," he said, before accusing the newspaper of trying to help Russia. The Post later redacted this portion of the interview on its website.
In a statement, Prigozhin alluded to the apparent act of self-censorship, calling into question the Post's reliability.
You can share this story on social media: