Kremlin unconcerned by ICC warrant for Putin – spokesman
It's "unthinkable" any country would dare enforce its writ against Russia, Dmitry Peskov has said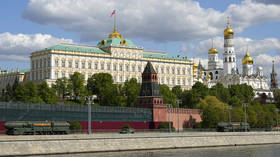 The International Criminal Court (ICC) is a puppet of the collective West and Russia finds it hard to imagine that any country would dare enforce its writ against a sovereign nuclear power, Kremlin spokesman Dmitry Peskov said in an interview on Wednesday.
The Bosnian Serb outlet ATV asked Peskov about the ICC charges against President Vladimir Putin and children's rights commissioner Maria Lvova-Belova. The ICC's predecessor was the ad-hoc war crimes tribunal for the former Yugoslavia, which disproportionately targeted Serbs.
The ICC warrant "practically means there might be states out there lacking sovereignty, and might think they have an interest in acting on that warrant if they get an opportunity," Peskov told ATV. "But it's difficult for me to imagine that anyone would dare act on that warrant against the Russian president."
"It's unthinkable," he added, noting that Russia is "one of the largest countries in the world and one of the biggest nuclear powers."
Acknowledging the "very painful" experience of Bosnian Serbs with the Hague-based tribunal, Peskov noted that Russia is not a signatory of the Rome Statute and does not recognize the ICC.
"In the current circumstances, we consider that body in effect a puppet of the collective West, which is using it to pressure our country. They will not succeed," Putin's spokesman said.
Moscow has evacuated thousands of residents of Donetsk, Lugansk, Zaporozhye, and Kherson – four regions that overwhelmingly voted to join Russia last September – away from the combat zone, due to the deliberate shelling of civilians by Ukrainian forces, often using NATO-supplied weapons.
In March, relying on the claims by the government in Kiev, the ICC cited that fact to claim that Putin and Lvova-Belova oversaw "unlawful deportation" and "unlawful transfer" of children from "occupied areas of Ukraine."
You can share this story on social media: