Ukraine cancels traditional holiday celebrating defeat of Nazis
The Russian Foreign Ministry has called President Vladimir Zelensky a "traitor" for proposing to shift Victory Day to May 8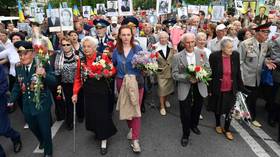 Ukraine may break the Soviet tradition of celebrating Victory Day on May 9 after President Vladimir Zelensky suggested holding commemorative ceremonies on May 8 instead. The idea was quickly slammed by officials in Moscow.
In a message on his Telegram channel on Monday, Zelensky explained that his proposal was based on the fact that it was "on May 8 that most nations of the world remember the greatness of the victory over the Nazis." He added that the German Third Reich's unconditional surrender was signed on that day.
Zelensky said he had submitted a bill to the country's parliament which, if passed, would officially designate May 8 as the 'Day of Remembrance and Victory over Nazism in the Second World War of 1939-1945'.
As for May 9, which is when Victory Day was traditionally celebrated in the Soviet Union, Zelensky declared this would now be observed as Europe Day, as it is in the European Union. He expressed confidence that the changes would help align Ukraine with Europe and return to "honest history without ideological admixtures to our state."
According to the proposed bill, May 9 would cease to be a public holiday, while May 8 would become one.
The Ukrainian President also compared modern day Russia to Nazi Germany, saying it represented a "similar evil" and insisting Ukraine would prevail in its conflict against Moscow in the end.
Lawmakers in the Verkhovna Rada have already indicated their readiness to quickly adopt the new piece of legislation promptly. The head of the ruling party's parliamentary group, David Arakhamia, wrote on his Telegram channel on Monday that he and his colleagues would begin working to "speedily adopt" the bill.
The move has been condemned in Russia, with Foreign Ministry spokeswoman Maria Zakharova branding Zelensky a "traitor" and the "new incarnation of Judas in the 21st century."
In a post on her Telegram channel, the official argued that the Ukrainian president had "forever betrayed his ancestors," who fought against the Nazis. "Fascist collaborator 80 years later," she concluded.
Kremlin spokesman Dmitry Peskov, said he believed May 9 would remain a sacred day for many Ukrainians no matter what.
You can share this story on social media: