US can't explain what happened to Nord Stream – Russia
Moscow expects no new insight from Washington regarding the blasts that crippled key gas pipelines, a high-ranking diplomat says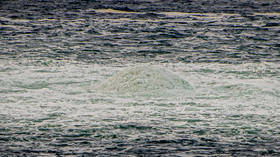 Washington hasn't responded to Moscow's demand for an explanation of what happened to the Nord Stream pipelines after veteran journalist Seymour Hersh published a bombshell report blaming the US for destroying the key gas route, high-ranking Russian diplomat Konstantin Gavrilov has said.
"We haven't received any clarification yet and it's unlikely that we'll ever get any," he told Izvestia newspaper on Monday. "There'll be nothing new [from the US]," added the official, who heads Russia's delegation at the Vienna talks on military security and arms control.
Gavrilov said he was surprised by the behavior of the EU nations that were most affected by the sabotage of crucial energy infrastructure, which was built to deliver Russian gas to Europe through Germany.
Germany, Sweden and Denmark, which have been carrying out probes into the explosions on Nord Stream 1 and 2 last fall, have so far been reluctant to open up about their findings. They also rejected offers from Russia to assist with the investigations.
"The stance of Europe, which is being openly humiliated, is something that I can't fully understand," Gavrilov said.
In early February, Hersh authored a report claiming that US President Joe Biden had given the order to destroy Nord Stream. According to an informed source who talked to the Pulitzer Prize-winning journalist, the explosives that were detonated last September had been planted at the pipelines in the Baltic Sea back in June 2022 by US Navy divers under the cover of a NATO exercise.
Hersh later suggested that Biden had chosen that very moment to blow up the infrastructure because the conflict between Russia and Ukraine "wasn't going great" for Kiev and its backers in Washington.
US National Security Council spokeswoman Adrienne Watson denied the report, calling it "utterly false and complete fiction."
In late March, Russian President Vladimir Putin said he "fully agreed" with Hersh's findings that the Nord Stream sabotage had been organized by the American Special Forces.
Other Russian officials have also noted that the only party to benefit from the destruction of Nord Stream was the US, which has seen supplies of its more expensive liquefied natural gas to Europe increase massively since the blasts.
You can share this story on social media: