Ukrainian plot to strike airfield deep inside Russia thwarted – FSB
Kiev's agents had reportedly planned to destroy A-50 surveillance planes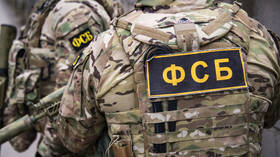 Ukrainian agents have been arrested while attempting launch a drone attack on a military airfield in central Russia, Russia's Federal Security Service (FSB) said on Sunday.
According to the FSB, the agents used a small Aeroprakt A-32 plane to transport explosives from northern Ukraine to Russia's Tula Region.
They allegedly planned to strike A-50 early warning and reconnaissance aircraft stationed near the city of Ivanovo, some 250km (155 miles) to the northeast of Moscow.
The pilot and locals recruited by Ukraine for the operation were apprehended upon landing, the FSB said.
The news comes after a string of train derailments and drone attacks on oil terminals on Russian soil. On Thursday, two UAVs tried to strike the Kremlin in what Russian officials said was an attempt by Kiev to assassinate President Vladimir Putin. Ukraine denied its involvement in the raid.
On Friday, the FSB said it that had detained two Ukrainian nationals who were planning to kill an unnamed high-ranking official working at the Zaporozhye Nuclear Power Plant, which sits close to the frontline.
In December, drones attacked Dyagilevo and Engels military airfields, located 500km (310.7 miles) and 700km (435 miles) from Ukrainian-held territory, respectively. Six people were killed on the ground, and two planes received minor damage, according to officials.
You can share this story on social media: