Wagner to hand key Donbass city over to Chechens – Prigozhin
The PMC group will be replaced by an elite special forces unit as the battle for Artyomovsk continues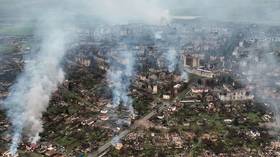 The Wagner Group private military company will withdraw from the key Donbass city of Artyomovsk (known in Ukraine as Bakhmut) on May 10, the group's chief, Evgeny Prigozhin, has announced. The PMC's positions will be taken over by the Chechen Special Forces Unit 'Akhmat', he said.
Prigozhin claimed to have been in contact with Ramzan Kadyrov, the head of the Chechen Republic, to perform the maneuver. The Wagner leader expressed confidence that the Chechen units will capture Artyomovsk completely, of which just a few blocks in the city's western part remain under the control of Ukrainian forces.
"I am already in contact with [Kadyrov's] representatives in order to start transferring positions immediately, so that on May 10, at 00:00, exactly at the moment when, according to our calculations, we will completely exhaust our combat potential, our comrades will take our places and continue the assault on the city of Bakhmut," Prigozhin said in a statement on Saturday.
Later in the day, Kadyrov released a short video address stating that he has already raised the issue with Russian President Vladimir Putin, notifying him of his willingness to replace the Wagner fighters in the city. The Akhmat fighters are already on standby and ready to be redeployed to Artyomovsk, he added.
"The soldiers are on high alert, we are only waiting for orders. Several units have already set off towards the special military operation zone," Kadyrov stated.
Prigozhin announced the looming withdrawal of his forces from the city earlier this week, citing heavy losses and a shortage of artillery munitions. The group will be redeployed from the frontlines to rear camps to "lick their wounds," he said.
Artyomovsk has seen intense fighting in recent months, with the raging battle commonly referred to as the "Bakhmut meat grinder." The city is a key road and rail junction in Donbass, with both sides reportedly suffering significant casualties during the struggle for control over it. Kiev has continuously poured reserves into the city, which remains partially surrounded by Wagner and other Russian troops.
You can share this story on social media: