Moscow blasts Kiev over use of grain corridor to attack Russia
Ukrainian forces took advantage of the UN-brokered agreement to target Sevastopol, Deputy FM Sergey Vershinin told RT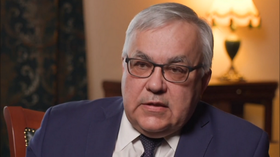 Ukraine's attempts to exploit the Black Sea grain corridor to stage terrorist attacks on Crimea, Russia cannot be tolerated, Deputy Foreign Minister Sergey Vershinin said in an exclusive interview with RT released on Saturday.
Speaking after talks with the United Nations Trade and Development chief on the renewal of the landmark UN- and Türkiye-brokered grain deal with Ukraine, which is set to expire on May 18, Vershinin signaled that Russia is not satisfied with the way the agreement is being implemented.
He said that while the talks turned out to be useful, as they allowed the headway being made to be measured, Russia "is not happy with the progress." Vershinin explained that the part of the agreement unblocking Ukrainian grain exports via the Black Sea has yielded "real results," but not without caveats.
"We are drawing attention to the fact that the grain… is probably being exported to the most developed countries… However, the very idea that was put forward by the UN secretary general [Antonio Guterres] to ensure food security in the world, as it turns out, is not actually happening."
Vershinin said the parties to the deal are working on the international humanitarian corridor to export grain, "but everyone knows that, unfortunately, it was used by the Ukrainian side, in particular, to organize terrorist attacks against Sevastopol, which is absolutely unacceptable."
The deputy foreign minister went on to tout Russia's potential in ensuring global food security. "It is well-known, if we remove barriers for our agricultural exports, and for the exports of our fertilizers, many countries of the world will benefit."
Concluded last July, the landmark grain deal with Ukraine has since hit some stumbling blocks. Russian officials have repeatedly complained that while the deal indeed unblocked Ukrainian grain exports, it failed to unblock deliveries of Russian food and fertilizers to global markets, mostly due to the Western sanctions.
The deal has also been marred by several Ukrainian attacks using the grain corridor, resulting in Russia briefly suspending its participation in the agreement in October 2022.
In April, Russia's Defense Ministry said that Ukraine had broken its promise not to use the grain corridor for military purposes after several unmanned boats attacked the Black Sea Fleet bases in Sevastopol, as well as civilian infrastructure on two occasions, potentially threatening the deal's renewal.
You can share this story on social media: