Russia and US on verge of 'open armed conflict' – Moscow
It is time for Washington to think about its own safety, Deputy Foreign Minister Sergey Ryabkov has warned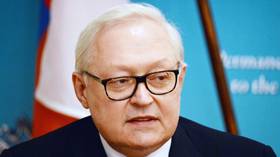 After the recent drone incident at the Kremlin, which Moscow has called a US-backed attempt by Ukraine to assassinate President Vladimir Putin, the US and Russia are on the verge of a shooting war with each other, a senior Russian diplomat has said.
"We are working on preventing a fall of our relations with the US into the abyss of an open armed conflict," Deputy Foreign Minister Sergey Ryabkov said in a TV interview on Friday. "We are already on the verge of this abyss."
Ryabkov described officials in Washington as "opponents" and "enemies" of Russia due to what he called Russophobic policies which are being pursued in spite of the risks.
"The anger and hatred towards Russia with which Washington acts in a situation in which it frankly should think of its own safety, is inexplicable," he said.
At the moment, "no real diplomacy" regarding the Ukraine conflict is possible between the two nations, because the US "has bet on further escalation," according to Ryabkov.
The US has long been a direct participant in the conflict and has long been waging an open hybrid war against my nation.
The deputy foreign minister said Washington tends to dismiss the statements of Russian officials, citing remarks made by Secretary of State Antony Blinken regarding Russia's claim that Ukraine was behind the drone attack on the Kremlin.
"I would take anything coming out of the Kremlin with a very large shaker of salt," Blinken told the Washington Post.
"We leave it to Ukraine to decide how it is going to defend itself," he added. Kiev denies having any involvement in the attack on the Kremlin.
The US government is treating "any signals coming from Moscow as an element of a disinformation campaign," Ryabkov said. Meanwhile, Russia is "literally ready to use any means at its disposal" to deter threats to its security and the safety of its leadership, he added.
He also reiterated the Russian claims that Washington shares responsibility with Kiev for the incident, which the US denies. Their statements of non-involvement are "not convincing anyone," and are reminiscent of "how they attempted to pretty much blame us for the bombing of the Nord Stream," Ryabkov said.
You can share this story on social media: