Ukrainian drone attacks Russian oil refinery – media
An explosion was reported at a facility in Krasnodar Region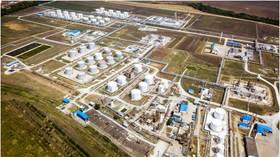 An oil refinery caught fire in Krasnodar Region in southern Russia on Friday morning, emergency officials have said. Baza news outlet reported that the blaze broke out after the facility was struck by a Ukrainian drone.
Baza posted a video of black smoke coming from the Ilsky Oil Refinery. According to the emergency services, the fire was quickly put out, and no one was hurt.
The facility was also attacked by several drones early Thursday morning, during which a blaze also broke out.
Multiple sites in Russia, including oil refineries and depots, as well as military airfields, have been attacked by UAVs since Moscow launched its military operation in Ukraine in February 2022.
On Thursday, Sevastopol Governor Mikhail Razvozhayev said that a drone was shot down by air defenses near Belbek airfield in Crimea.
Last week, drones hit oil terminals in Rostov Region and Crimea. Natalya Gumenyuk, the spokeswoman for the Ukrainian army's southern command, said the attack in Crimea was part of "a broad, large-scale offensive" planned by Kiev.
Russia said two Ukrainian drones attempted to strike the Kremlin on Wednesday in an effort to assassinate President Vladimir Putin, who was not at his Moscow residence at the time. Kiev denied any involvement in the raid.
You can share this story on social media: