Frenchman prosecuted for attempted high-speed escape into Russia (VIDEO)
The man rammed his car through a border checkpoint in a bid to start a new life in Russia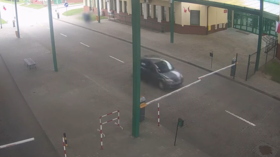 A Frenchman has been arrested and fined after he plowed his car through a border checkpoint separating Poland from Russia's Kaliningrad Region. The man reportedly told security officers that he planned on building a new life outside the EU.
The man pulled up at the Grzechotki checkpoint on Tuesday morning, but was turned away as he lacked the proper documents to leave Poland, Polish border officials said in a statement.
The man turned back, but returned in the afternoon to the checkpoint, which separates northern Poland from the Russian exclave of Kaliningrad.
This time, he accelerated and rammed his Citroen through the barrier, before stopping when border guards deployed a spike strip.
He was detained and interrogated, telling law enforcement that he planned on building a future in Russia. He was fined 1,000 zloty (around $240) for using illegal force to cross the border, and 500 zloty (around $120) for keeping 11 hunting rifle rounds in his car without a proper permit.
After paying up, the 36-year-old Frenchman was released back into the EU.
You can share this story on social media: