Opposition mayor arrested in Ukraine
Odessa's Gennady Trukhanov has been accused of corruption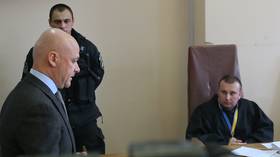 Ukraine's High Anti-Corruption Court on Thursday ordered the arrest of Odessa Mayor Gennady Trukhanov in a case involving allegations of misusing city funds. Trukhanov will spend 60 days in jail unless he can post bail.
Trukhanov has the option of paying a bond of 13 million hryvnia ($352,000), which the court reduced from the 30 million the prosecutors sought.
Charges against Trukhanov go back to 2017, when the National Anti-Corruption Bureau of Ukraine (NABU) investigated him for a shady 2016 real estate deal. The Odessa city council spent 185 million hryvnia on a building previously owned by the now defunct construction equipment company 'Krayan', which another company had acquired several months earlier for just four million.
The 'Krayan' deal allegedly benefited Alexander Turchinov and Alexander Dubovoy, two nationalist politicians linked to the 2014 US-backed coup. However, NABU instead focused on Trukhanov. He was arrested in 2018, but acquitted the following year, the verdict was then overturned on appeal in 2021.
Trukhanov was once a member of the Party of Regions, which was outlawed by President Vladimir Zelensky's government earlier this year. He was elected mayor of Odessa in May 2014, following the massacre of pro-Russian activists at the House of Trade Unions.
The current government has accused Trukhanov of pro-Russian sympathies, even though he denounced the "invasion" to both domestic and foreign media in May 2022. Last month, lawmakers from Zelensky's party claimed that the mayor had "sabotaged" their plans to remove the Odessa monument to Empress Catherine II and personally unveiled the monument to 18th century Russian general Alexander Suvorov. Both monuments were demolished in December 2022.
Trukhanov's arrest comes less than a week after the UK National Crime Agency (NCA) collaborated with the National Anti-Corruption Bureau of Ukraine (NABU) to raid suspected members of an alleged crime syndicate led by Ukrainian businessman Vladimir Galanternik, who lives in London. Trukhanov's name was on the list of suspects, though details of his alleged involvement were not given. The pre-trial investigation of Galanternik has been delayed until July.
You can share this story on social media: