Russian fashion designer dies just days after passing of fellow icon
Valentin Yudashkin has passed away at the age of 59 after a prolonged illness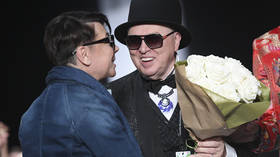 Renowned Russian fashion designer Valentin Yudashkin has died at the age of 59, it was announced on Tuesday. His death comes after another icon of the country's fashion industry, Vyacheslav Zaitsev, passed away on Sunday.
Yudashkin's wife shared the news of his death with Russia's Channel 1. In 2021, the designer revealed he had been fighting cancer since 2016, when doctors found a tumor in his kidney that had metastasized. The designer had continued to work while receiving treatment for his condition.
Yudashkin began his career in the 1980s and created designs for numerous leading Russian public figures, including Raisa Gorbacheva – wife of former Soviet leader Mikhail Gorbachev – as well as pop icons such as Philipp Kirkorov.
In 1991, he presented his first collection in Paris, which involved 150 models. Yudashkin designed the outfits for the Russian Olympic teams in 1994 and 1996, and created attire for the men's and women's national football teams in 1999. He later participated in the development of uniforms for the Russian Armed Forces.
Yudashkin's fashion house is among the leading brands in Russia. The company owns a network of boutiques, while the late designer staged shows in Paris, Milan, New York, and Moscow. His designs are also exhibited at the Costume Museum in the Louvre, the State Historical Museum in Moscow, and the California Fashion Museum in Los Angeles.
Just three days before his death, Yudashkin paid tribute to close friend and mentor Vyacheslav Zaitsev – another iconic Soviet and Russian fashion designer who died on Sunday at the age of 85 after a battle with Parkinson's disease and partial paralysis. Zaitsev emerged as the leading Soviet fashion designer from the early 1960s and gained international recognition, often being referred to as the 'Red Dior'.
You can share this story on social media: