Kremlin issues grain deal warning
The Russia-Ukraine grain deal will end unless the West fulfills its end of the bargain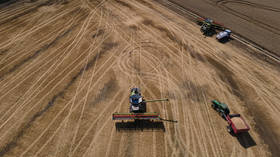 Russia does not see how the arrangement for the export of Ukrainian grain can be extended unless all of its provisions are met, Kremlin spokesman Dmitry Peskov said on Monday.
"We believe it can't be extended without meeting the requirements," Peskov told RIA Novosti at the Kremlin.
The July 2022 agreement, brokered by the UN and Türkiye, established corridors in the Black Sea for safe export of grain from Ukraine, but also required the US and its allies to unblock the export of Russian grain and fertilizer – stalled due to Western sanctions against Russian shipping – which has not happened.
UN Secretary General Antonio Guterres gave Russian Foreign Minister Sergey Lavrov a letter concerning the grain deal on Monday, offering a "detailed account of the progress already made" and the world body's "commitment to continue working on the remaining issues," the UN said in a statement.
Lavrov confirmed the existence of the letter to reporters after meeting with Guterres for more than an hour. The secretary-general confirmed that the Black Sea Initiative was a "package deal," but that only the first part has been successfully implemented.
"So far, the progress, frankly, is not very noticeable," Lavrov said. "We do not see the desire of Western countries to really do what is necessary" for the success of the grain deal.
The US and the EU have argued that their sanctions specifically exclude agricultural exports and fertilizer from Russia. The goods have no way of reaching places where they are needed the most, because the West has sanctioned all of Russia's shipping industry and denied it access to brokerage and insurance services.
While the deal was initially presented as a way to help the underdeveloped countries reliant on food imports – mainly in Africa, but also parts of Asia – the bulk of Ukraine's exports actually ended up in the EU. According to research by one Austrian outlet, published in February, much of Ukraine's corn ended up feeding the pigs in Spain that produce the world-famous and pricey jamon, while only 15% of the total grain exports made their way to Africa.
In March, Moscow agreed to extend the deal by 60 days, but said it will not be extended further unless all of its provisions are met. The arrangement is now set to expire on May 18.
You can share this story on social media: