Russia reveals details of snap Pacific Fleet drills
Over 25,000 servicemen have been placed on high alert, Defense Minister Sergey Shoigu told President Vladimir Putin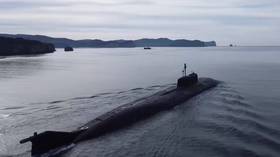 More than 25,000 servicemen and hundreds of pieces of military hardware are involved in a surprise combat readiness check of Russia's Pacific Fleet, Defense Minister Sergey Shoigu has revealed.
All of the forces taking part in the exercise, which kicked off on April 14, have been placed on high alert, Shoigu told President Vladimir Putin on Monday.
"They're engaged in fire drills and tactical exercises, while also working on improving interactions between different branches of the military," the minister added. He noted that 167 ships, 12 submarines, and 89 planes and helicopters are part of the drills.
According to Shoigu, the second stage of the surprise check is currently underway, with a group heading towards the southern part of the Sea of Okhotsk, located between Russia's Kamchatka Peninsula and the Japanese island of Hokkaido. The ships will perform "the tasks of combat maneuvering and surveying the underwater situation."
The drills will test the combat sustainability of strategic missile submarines and their readiness to use their weapons, the minister noted, adding that tactical air defense exercises have also begun.
The final stage of the exercise is scheduled to begin on Tuesday, Shoigu said. Among other things, it will involve Russian strategic bombers flying to the central part of the Pacific to perform strikes against flotillas belonging to a simulated enemy. There will also be more missile and artillery drills against naval and airborne targets, the minister added.
Putin stated that the surprise checks had thus far been conducted "at a high level." He stressed that the Russian military is currently focused on the conflict with Ukraine, but added that "nobody has aborted the task of developing the navy."
Shoigu stated last week that the largescale checks were aimed at "boosting the ability of the armed forces to execute the tasks of repelling aggression by a potential enemy from maritime directions."
During the first stage of the drills, the Russian military trained to prevent enemy forces from landing on the island of Sakhalin and the southern coast of the Kuril Islands. Japan disputes Russian sovereignty over four of the islands in the Kuril Archipelago, which the Soviet Union captured during World War II.
You can share this story on social media: