Black Sea will never belong to NATO – Kremlin
The region must be one of cooperation and security for everyone, Dmitry Peskov has said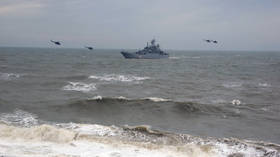 Despite efforts from Kiev, the Black Sea will never be the domain of NATO, Kremlin spokesman Dmitry Peskov said on Thursday. He was commenting on a speech by Ukrainian Foreign Minister Dmitry Kuleba, who called for the military bloc to devise a new strategy for the region.
Speaking at the Black Sea Security Conference in Bucharest, Romania, Kuleba urged the West to "work out a comprehensive security network for all nations… that feel threatened."
He insisted that it is "time to turn [the] Black Sea into what the Baltic Sea has become – a sea of NATO." At the same time, Kuleba called for the "demilitarization of the Black Sea."
On a call with journalists on Thursday, Peskov said the Ukrainian diplomat's remarks were "based on flagrant contradictions" and that "NATO and demilitarization are mutually exclusive."
The Black Sea will never be a sea of NATO. It is a sea that is common for all littoral countries. It must be a sea of cooperation, interaction... and indivisible security.
In accordance with the 1936 Montreux Convention, Türkiye, a NATO member, closed access to the Black Sea through the straits of Bosphorus and Dardanelles shortly after Russia launched its military operation in the neighboring state over a year ago. Other members of the US-led bloc in the region are Bulgaria and Romania.
The standoff between Russian and NATO has led to several incidents over Black Sea waters. Moscow has accused the bloc of flying aircraft close to the country's borders and within the restricted area Russia established after the start of the conflict in Kiev. The Pentagon said it considers these airspace restrictions illegal.
Last month, the US said it was forced to down one of its MQ-9 Reaper drones after an altercation with a Russian warplane. The Pentagon claimed that an Su-27 fighter jet dumped fuel on the UAV and collided with its rear propeller. The Russian Defense Ministry denied that the collision happened and said the drone crashed on its own.
You can share this story on social media: