Russia warns of Ukraine weapons spillover
Western arms meant for Kiev are also falling into the hands of organized crime and terrorists, Moscow's UN envoy has said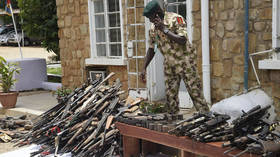 Weapons being sent to Ukraine by its Western backers often end up benefitting malicious actors across the globe, Moscow's permanent representative to the UN, Vassily Nebenzia, said on Monday.
Speaking at a UN Security Council meeting on risks associated with weapons exports, Moscow's envoy claimed that while Western countries had been trying to promote "responsible behavior" over arms trafficking, the Ukraine conflict proved "how insincere their claims" on the matter actually were.
Nebenzia recalled that Russia has "long been stressing that pumping up of the Kiev regime with weapons would bring those weapons in black markets and also in the hands of organized crime and terrorists."
He said that it "can be confirmed by facts," noting that law enforcement agencies across Europe had already observed the arms in question starting to surface in various countries.
"Such weapons also spread throughout the world, in particular, [they find their] way to the militants in Africa. All of us heard African leaders say so," he added.
Last November, Nigerian President Muhammadu Buhari said that "weapons being used for the war in Ukraine and Russia are equally beginning to filter" to the Sahel region in Northern Africa and the Lake Chad Region, where they bolster local terrorists.
In autumn 2022, a similar alarm was sounded by Finnish law enforcement. Christer Ahlgren, a senior police official, said at the time that arms originally sent to Ukraine, including assault rifles, grenades, and combat drones, had been found in multiple European countries, such as Sweden, Denmark, the Netherlands and Finland itself.
Earlier this month, NATO Secretary General Jens Stoltenberg said that Ukraine's Western allies had sent Kiev military aid to the tune of €65 billion ($71 billion). Russia has repeatedly warned that such actions make the West a direct participant to the conflict.
Moreover, in February, Russian President Vladimir Putin stated that NATO security assistance to Kiev makes the bloc an accomplice to "the crimes committed by the Kiev regime," which he said consistently targeted civilians with artillery and missile strikes.
You can share this story on social media: