Ukraine will eventually reveal 'horrible' losses – ambassador
The true number of casualties will be acknowledged only once the conflict is over, Vadim Pristaiko has said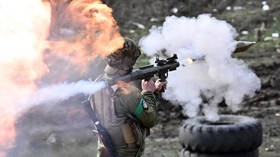 Ukraine will reveal the extent of its "horrible" losses once its conflict with Russia is over, Vadim Pristaiko, Kiev's ambassador to the UK, said in an interview released on Friday.
Asked by British tabloid the Daily Express to comment on casualties among Ukrainian military personnel and civilians, Pristaiko said "it has been our policy from the start not to discuss our losses."
"When the war is over, we will acknowledge this. I think it will be a horrible number," he added.
Pristaiko dismissed any possibility of talks between Moscow and Kiev – at least until Russia withdraws its troops from the territories Ukraine claims as its own. "So, we have to fight to the very last of them or, very unfortunately, the last of us as well," the envoy said.
The ambassador also commented on the assault brigades that Ukraine says it has assembled for a much-anticipated spring offensive against Russia. "Whoever says there are 40,000 men in these brigades, I would like to point out that we have mobilized a million men," Pristaiko stated.
Both sides of the Ukraine conflict rarely provide data on their losses. However, last autumn, EU Commission President Ursula von der Leyen put Kiev's fatalities at 100,000, a claim that was disputed by Ukraine and later removed from the official's website. In December, Mikhail Podoliak, a senior aide to Ukrainian President Vladimir Zelensky, put the death toll among Kiev's military at between 12,000 and 13,000 people.
Russia has not officially updated its losses since last September, when Moscow's Ministry of Defense estimated that 5,937 service members had died.
Pristaiko's comments come as Ukrainian and Western officials claim that Ukraine will launch a counteroffensive in the coming weeks. Commenting on statements about a potential Ukrainian push, Kremlin Press Secretary Dmitry Peskov noted that the Russian military "thoroughly tracks all the relevant information" on the matter.
You can share this story on social media: