Russian woman and dogs conquer active volcano
The adventurer said she just wanted to do something that hadn't been done before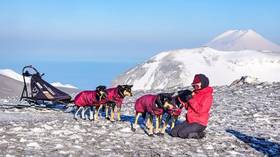 A 23-year-old female thrill-seeker has reached the top of the volcano Ebeko in the Kuril Islands in Russia's Far East, traveling on a dog sled, media has reported.
Breeder and dog-sled driver Alisa Voronova told the Mash channel on Telegram that she was so impressed when she saw Ebeko, on the island of Paramushir, with her own eyes that she dreamed of conquering the "unique natural object" with her sled pets, she said.
Upon awakening, "we decided to do something that nobody else did before us," she explained.
The woman and her sled dogs had to cover more than ten kilometers through ice and frozen crust to reach the summit at 1,156 meters. The animals had to wear special boots to protect their paws during their ascent.
Ebeko is one of the most active volcanoes in the Kuril Islands, but the scientists believe it to be a dying one, meaning that chances of an actual eruption remain very low. However, the first attempt, on March 30, failed as the volcano released a huge plume of ash into the air.
Voronova and her four dogs – Axel, Dora, Dallas and Dipper –all aged two and a half years and in their first real working season, succeded the following day, the woman from the city of Petropavlovsk-Kamchatsky in Russia's Kamchatka Peninsula said.
Voronova has been working with canines and competing in dog-sled races from a young age. In 2018, when she was 18, she finished fourth in the iconic Beringia sled-dog race, held in Kamchatka every year.
You can share this story on social media: