Russia mulls e-cigarette restrictions
A law banning the sale of any nicotine products to minors could be adopted next week, the State Duma chairman has announced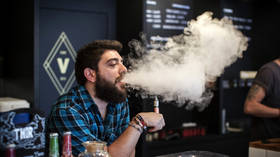 Russian lawmakers are considering a ban on the sale of electronic cigarettes and any other nicotine products to minors, according to State Duma Chairman Vyacheslav Volodin.
"We are urgently preparing a law to completely ban vaping for minors. This will apply not only to nicotine-containing vapes, a partial ban of which is already in effect, but to the entire line of similar devices. As well as a ban on advertising and placement on store shelves," Volodin was quoted as saying by the Duma press service on Wednesday.
The official stated that the lower house of parliament could sign off on the new e-cigarette restrictions on April 11, after which lawmakers also plan to introduce a significantly increased tax on vaping products.
However, he noted that as Russia is part of the Eurasian Economic Union (EAEU), which includes Belarus and Kazakhstan, where electronic cigarettes are still allowed, lawmakers will have to find a legal way "to make vapes a product that will cost a significant amount."
One of the authors of the initiative, Duma Deputy Sultan Khamzaev, has said that lawmakers eventually plan to introduce a complete ban on vaping in Russia. He argued it is necessary to do everything possible so that vapes "disappear from the shelves and lose their relevance because of the price." Khamzaev has also suggested introducing criminal liability for the sale of e-cigarettes to minors regardless of nicotine content, as well as imposing "draconian" excise duties, a total advertising ban, and full state control over the sale of such products.
Critics of the initiative have claimed that a full ban on e-cigarettes would force many Russian vapers to turn to more harmful tobacco cigarettes and encourage the creation of a black market for the products.
Alexey Kurinny, deputy chairman of the State Duma Committee on Health Protection, previously argued that banning vaping products would be ineffective, and that measures should instead be preventive.
You can share this story on social media: