Russia demands release of Ukrainian bishop
Metropolitan Pavel was arrested after accusing President Zelensky of religious persecution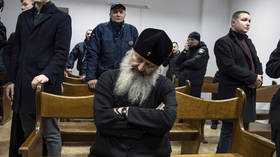 Russia has demanded the release of Metropolitan Pavel, a senior bishop of the Ukrainian Orthodox Church (UOC), stating that it is concerned about his wellbeing. Pavel was taken into custody last week as Kiev sought to oust UOC monks from the historic monastery which he heads.
In a statement on Wednesday, the Russian Foreign Ministry said it was angered by the Ukrainian government's pressure to remove the UOC from the Kiev Pechersk Lavra. It added that Moscow is worried about the monks and priests, who "face the threat of a physical and moral crackdown," and claimed Pavel's arrest was a prime example of religious persecution.
The leading bishop is being held under house arrest "in electronic shackles," the statement remarked. It also condemned President Vladimir Zelensky for claiming last week that Ukraine was a bastion of religious freedom "in our part of Europe." Russian diplomats branded the remarks "the pinnacle of cynicism."
"We demand the immediate release of Metropolitan Pavel and [for him to be given] medical treatment," the Foreign Ministry said.
Pavel was taken into custody last Saturday, after the Security Service of Ukraine (SBU) accused him of inciting religious hatred and "justifying and denying Russian military aggression."
The court which ruled on his arrest was forced to interrupt proceedings when the senior cleric complained of health issues. Pavel was removed from Kiev and ordered to stay in a village 50km from the capital.
The SBU has conducted raids on UOC churches and clerics, claiming to be looking for stockpiled weapons and evidence of treason. A report by the UN's Office of the High Commissioner for Human Rights (OHCHR) said last month that the actions "could be discriminatory," prompting a rebuke from Kiev.
Days before his arrest, Pavel blamed Zelensky personally for the crackdown on the UOC, vowing that God "will not forgive this action, neither to you nor to your family."
The Russian Foreign Ministry accused Zelensky of insulting the UOC's ruling council by refusing to meet them and ignoring millions of people who support the church in Ukraine and beyond.
"The Kiev regime stubbornly ratchets up its policy of moral terror against citizens and the faithful," it said.
Moscow also reiterated its criticism of the US government for a failure to address the situation, claiming that this proved Washington cannot be an arbiter on religious freedom. US reports on the issue are "bogus propaganda and puny political hackery," the Foreign Ministry asserted.
You can share this story on social media: