Russia sounds alarm over grain deal progress
Only a tiny fraction of Moscow's agricultural exports has been unblocked, the UN envoy has said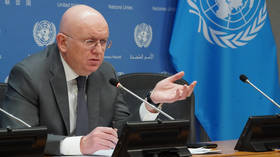 The part of the UN- and Türkiye-brokered grain deal with Ukraine regarding Russian agricultural exports is still not working the way it is supposed to, Moscow's permanent representative to the UN, Vassily Nebenzia, said on Monday.
Speaking at a press conference, Nebenzia stated that "we have not had a single grain exported according to the memorandum of Russia and UN, the second part of the deal."
The agreement, which was concluded in July 2022 amid the conflict between Moscow and Kiev, allows Ukraine to transport agricultural products via the Black Sea through a humanitarian corridor, in exchange for Russian grain and fertilizers gaining unimpeded access to global markets.
The envoy went on to say that some Russian fertilizers had been blocked in European ports, and Moscow offered to deliver them to developing countries free of charge.
"Out of the total number which amounts to nearly 300,000 tons of fertilizers, only 30,000 tons were exported or rather evacuated from one of those ports," he added. "These are mere facts which say how… the Black Sea initiative is working, or rather not working."
Nebenzia said he cannot predict the future of the grain deal, though Moscow "expects a breakthrough" in the implementation of the agreement.
Russia has repeatedly voiced concerns about problems with exporting its agricultural products under the deal, while demanding that the West lift "direct and indirect sanctions" targeting both the shipments themselves and the provision of relevant insurance services.
Despite these issues, Russia agreed last month to renew the grain deal for 60 days, with Kremlin Press Secretary Dmitry Peskov describing the move as "a gesture of goodwill." He also expressed hope that "after such a long time the conditions and obligations that were taken on by the well-known parties will be fulfilled."
You can share this story on social media: