Russia reveals host city for 2024 BRICS summit
Next year's meeting of the economic bloc's leaders will take place in Kazan, according to a presidential decree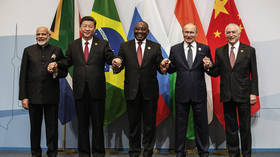 The 2024 BRICS summit will be hosted by the southwestern Russian city of Kazan as Russia is poised to take over the economic bloc's rotating presidency next year.
The decision was announced in a presidential decree signed by Russian President Vladimir Putin on Monday. The Russian leader also ordered the establishment of an organizing committee run by presidential aide Yury Ushakov that will oversee laying the groundwork for the country's chairmanship.
Another presidential aide, Anton Kobyakov, said Russia had "high expectations" from its BRICS presidency. He vowed that Moscow would continue a "systematic dialogue" with the bloc's members and its other partners.
"We will cooperate in all areas – from trade to security," he said, adding that the fact that the summit would be held in "one of the most comfortable and developed cities in Russia" would strengthen the meeting's positive agenda.
BRICS is an informal international socio-economic and political forum comprising Brazil, Russia, India, China, and South Africa. It accounts for over 40% of the global population and nearly a quarter of the world's GDP.
Established in 2006, the group has held summits each year beginning in 2009, with member countries taking turns to host. This year, the BRICS presidency is held by South Africa, with the 2023 summit set to take place there in August. South African President Cyril Ramaphosa has said he wants to use the opportunity to advance Africa's interests.
"Our continent was pillaged and ravaged and exploited by other continents and we therefore want to build solidarity in BRICS to advance the interests, of course initially of our own country, but also of the continent as a whole," he said in January.
You can share this story on social media: