Details emerge of blast that killed Russian blogger
An improvised explosive device allegedly camouflaged as a gift was presented to the victim, Vladlen Tatarsky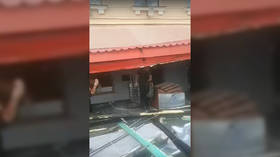 War reporter Vladlen Tatarsky may have been killed by an improvised explosive device disguised as a statuette, Kirill Makarov, the youth policy minister of the Donetsk People's Republic, told Russian media on Sunday. Tatarksy died on Sunday in an explosion while hosting a live event for his supporters at a St. Petersburg café.
According to several Russian media outlets, a young woman presented a figurine to the war correspondent and blogger during the event. Her identity is unknown so far. The police have not commented on this version of events but have confirmed that Tatarsky was killed in the blast, which also left 32 people injured.
Earlier, a source within the emergency services told TASS that an improvised explosive device was detonated near the stage in the café.
Russia's REN TV reported, citing a witness, that the statuette blew up as Tatarsky was holding it.
According to TASS, the IED's power was equivalent to 200 grams of TNT.
A video published by REN TV shows the moment Tatarsky was allegedly given the bomb camouflaged as what appears to be a large bust. The footage shows, however, that it was a man, not a woman, who presented the supposed gift.
Tatarsky became prominent in Russia as a blogger and war correspondent reporting on the situation in Donbass after he joined the local militias in the wake of the Maidan coup in Kiev in 2014. The man, who also authored several books, was hosting a live event in a St. Petersburg café on Sunday.
You can share this story on social media: