Blinken and Lavrov discuss WSJ reporter's arrest
Moscow considers it unacceptable that Washington and the US media seek to portray the case as political, Sergey Lavrov has said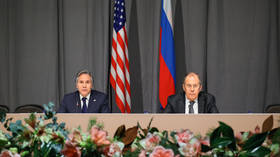 Washington should respect decisions made by the Russian authorities in accordance with the nation's own laws and international obligations, Russian Foreign Minister Sergey Lavrov told US Secretary of State Antony Blinken on Sunday. The two discussed the arrest of Wall Street Journal correspondent Evan Gershkovich, who was charged with espionage in Russia earlier this week.
Gershkovich was "caught red handed" trying to obtain state secrets under the guise of journalism, Lavrov told Blinken in a phone call, the Russian Foreign Ministry said in a statement. Moscow also informed the US Embassy about his arrest "through an established procedure," the statement added.
Russia considers it unacceptable that Washington officials and the US media are trying to hype this case and portray it as political, the foreign minister said.
Blinken "conveyed the United States' grave concern over Russia's unacceptable detention of a U.S. citizen journalist" and called for his immediate release, the State Department said in a statement, adding that the two officials also discussed ways of creating "an environment that permits diplomatic missions to carry out their work." Moscow only noted that issues related to bilateral ties were discussed.
On Thursday, Russia's Federal Security Service (FSB) reported that it had detained Gershkovich as he was allegedly trying to obtain classified information about a defense plant located in the Russian Urals. The FSB also said he is now suspected of espionage, a crime punishable by up to 20 years in prison.
Following the arrest, the WSJ demanded that all Russian journalists and the country's envoy be expelled from the US, saying it is the "minimum to expect" in this case. It also accused the administration of President Joe Biden of showing weakness, and called for a tougher response. Kremlin spokesman Dmitry Peskov ridiculed the WSJ's demand as "absurd and wrong."
You can share this story on social media: