Zelensky slaps sanctions on 'Hero of Ukraine'
Vyacheslav Boguslaev, the ex-president of Ukrainian aerospace giant Motor Sich, had previously been detained on treason charges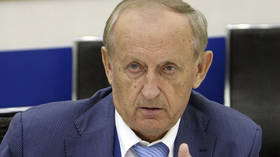 Vyacheslav Boguslaev, a former president of Ukrainian aerospace giant Motor Sich, was included on a sanctions list by President Vladimir Zelensky on Saturday. He was recently fired as the head of the aircraft-engine manufacturer and had been accused of treason by Kiev.
Boguslaev, 83, who had been at the helm of Motor Sich since 1991, was awarded the 'Hero of Ukraine' honor for his accomplishments back in 2000. He is also a former politician, who served as an MP for several terms and held various advisory positions under a number of Ukrainian presidents, from Leonid Kravchuk to Viktor Yanukovich.
In October 2022, he was detained on treason charges after Ukraine's domestic security agency (SBU) claimed he had been secretly selling spare parts and engines to Russian helicopter producers. He now faces the prospect of at least 10 years behind bars.
The EU also imposed restrictions on Boguslaev in its tenth sanctions package in late February 2023.
Boguslaev's name appeared on a long list of people sanctioned by Ukraine on Saturday, which included Ukrainians, Russians and Iranians. Kiev also blacklisted a former police chief of the central Cherkasy Region, Vladimir Lipandin.
Lipandin headed the regional law enforcement department until the 2014 Maidan coup before being fired by the post-coup government. In May 2022, he was appointed as the police chief of Kherson Region, which was at that time controlled by Russian forces. The region formally joined Russia in autumn 2022, following a referendum.
Those subjected to personal sanctions by Kiev will have their assets in Ukraine frozen and be barred from moving capital out of the country for ten years. On Saturday, Zelensky slapped sanctions on a total of 273 people and 380 entities, including Russia's Finance Ministry and the upper house of the Russian parliament, the Federation Council.
You can share this story on social media: