Russian MP makes promise to conscripts
Troops called up for mandatory service in spring will not serve in new territories bordering Ukraine, he claimed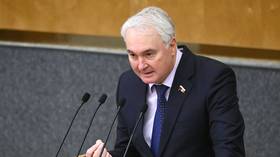 Conscripts called up for mandatory military service in April will not be sent to any of the new Russian territories bordering Ukraine, the head of the State Duma Defense Committee announced on Wednesday.
Andrey Kartapolov added that there would be no conscription in the near future in the Donetsk and Lugansk People's Republics, nor in Zaporozhye and Kherson regions, which became part of Russia in late September.
"The reasons are clear," the MP told journalists. "There is a special military operation going on there, they have nothing to do there. When the situation is normal, then we will return to the issue of the possibility of conscription from these regions."
Kartapolov's comments followed rumors that Russian conscription centers were preparing for a second wave of mobilization with a view to deploying new troops to the conflict zone in Ukraine.
These rumors have been repeatedly dismissed by a number of top government officials, with Moscow Mayor Sergey Sobyanin describing them as "purely the work of the enemy." He explained that the military commissariats were doing routine preparations for the upcoming annual spring conscription.
In an interview with Interfax, Kartapolov also addressed the planned increase in the military age in Russia. He said the recently introduced draft law on the gradual increase in the age of conscription would not be implemented in spring because the State Duma, Russia's lower chamber of parliament, only plans to consider the bill after April 17.
The bill was introduced earlier this month and proposes to raise the minimum and maximum age of conscription in Russia. Currently, able-bodied men between the ages of 18 and 27 are required to undergo mandatory military service. However, under the draft legislation, this range would increase over several years, reaching 21 to 30 in 2026.
The idea of increasing the conscription age was proposed by Defense Minister Sergey Shoigu in December. During a report for President Vladimir Putin, he also suggested raising the strength of the Russian standing army to 1.5 million, citing the threat posed by NATO in Europe.
You can share this story on social media: