Moscow warns neighbor of threat from Ukraine
Saboteur groups may be sent to Belarus to topple the government, according to a senior Russian diplomat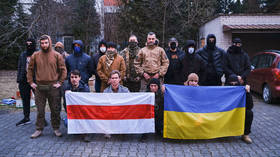 Belarusian "nationalist units" fighting for Ukraine could be sent back home to conduct acts of sabotage, Russian Deputy Foreign Minister Mikhail Galuzin has warned. The official, however, expressed confidence that Minsk will be able to thwart such attempts, adding that Moscow will assist if necessary.
The diplomat noted that the rhetoric coming from members of "Belarusian nationalist formations… who are actively supported by the Kiev authorities and their Western backers, has become significantly tougher" lately.
"The leaders and commanders of those cut-throat mercenaries openly say that they plan, in the future, to apply their combat experience to topple the current Belarusian leadership," Galuzin said in an interview with the Russian news network RTVI on Wednesday.
He cited several incidents, in which the Ukrainian conflict has spilled over into Belarus in recent months, including the February drone attack allegedly targeting a Russian aircraft stationed at an airfield near Minsk. Bypol, a Belarusian anti-government group, claimed responsibility for the incident.
Earlier this month, Minsk reported arresting the ringleader behind the attack. President Alexander Lukashenko accused Ukraine's security service SBU of masterminding the operation, and branded his Ukrainian counterpart, Vladimir Zelensky, "scum" over the incident.
In his interview with RTVI, Galuzin suggested that such cases could be attempts to "feel out" the defense capability of a joint Russian-Belarusian task force deployed in the country, and "a preparation for military aggression".
The task force was formed last year, after Minsk complained of an increased threat posed by NATO troops stationed in Eastern Europe. Galuzin said the presence of Russian soldiers in Belarus also "serves as a deterrence factor" in the Ukraine conflict, as it forces Kiev "to keep significant reserves" in the north, instead of sending them to the frontline.
You can share this story on social media: