EU diplomats believe Baltic state 'hypocritical' over Ukraine – Politico
Estonia has allegedly been renewing its own weapons arsenal at the bloc's expense while sending old stocks to Kiev's forces, according to the outlet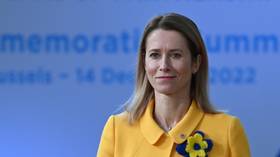 A number of EU diplomats are growing increasingly concerned that some member states may have exploited the European Peace Facility (EPF) fund, which is intended to partially reimburse countries that have sent military aid to Ukraine, Politico reported on Tuesday.
The outlet's Playbook project claims it spoke to seven EU diplomats and officials, who chose to remain anonymous to discuss classified information. According to them, one country in particular – Estonia – has been accused of using the fund to upgrade its own military arsenal at the expense of its EU neighbors while sending its old stocks to Ukraine.
Under the EPF rules, all EU states are set to receive the same rate of reimbursement for what they spend on Ukraine – some 84% of the total price paid. However, as noted by Politico, there aren't any agreed-upon rules for how countries calculate the price of the equipment they send to Kiev.
According to classified data from the EU Foreign Affairs and Defense Department (EEAS) obtained by Playbook, six countries – Finland, Latvia, Lithuania, Estonia, France and Sweden – are believed to have calculated their reimbursement claims based on the purchase price of new materials, rather than the value of what they sent to Ukraine.
Estonia has topped the list in absolute terms, Politico claims, citing an overview by the EEAS. The country reportedly received a reimbursement of €134 million after having officially declared spending over €160 million on donations to Ukraine.
Estonian Prime Minister Kaja Kallas is now being accused of "sanctimonious behavior" after she publicly led calls in the EU for increased military support for Ukraine, only to later use the EPF to "generously" support her own army, according to the outlet.
"They are sending their scraps to Ukraine and buying brand new material for themselves, financed with EU money," one EU diplomat told Politico.
According to the diplomats, one example of how Estonia manipulated the system was sending old Soviet-made Strela surface-to-air missiles to Ukraine but then citing the price of a modern Stinger missile in the reimbursement claim. "This is also why Estonia's military support appears to be so much higher per capita than that of other countries in the statistics everybody cites," one diplomat noted.
Estonian officials have rejected the claims made in Politico's report, with Defense Ministry Secretary General Kusti Salm dismissing them as "malicious slander" meant to slow down support for Ukraine.
You can share this story on social media: