Russian man fined for spreading fake tiger encounter photos
This is the first verdict regarding the dissemination of false information about predators, local animal activists say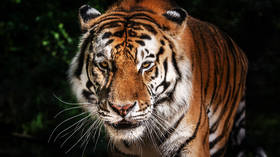 A court in Russia's Far East has fined a man for spreading fake photos of encounters with a wild animal. The suspect shared a photo of a tiger that he falsely claimed had emerged from the woods and approached people.
The image quickly spread, prompting a local woman to warn the police that a tiger was spotted nearby. However, no traces of the animal were found.
According to the court order, the 30-year-old man will have to pay a fine of 50,000 rubles ($650) and hand over his smartphone.
Tiger encounters have become a growing concern for residents of the Far East region. Experts say the incidents are due to the proximity of landfills and cattle. In 2023, local media reported a significant increase in tiger attacks on domestic animals, including dogs and sheep.
In February, a tiger in nearby Khabarovsk Region attacked two hunters, who had to shoot it to save their lives. One of the men was severely injured, and had to have his arm amputated.
The Amur tiger is a rare predator that can survive without discomfort in thick snow at -40C. It is on the brink of extinction and is classified in both the Red Book of Russia and the Red Book of the International Union for Conservation of Nature as endangered.
You can share this story on social media: