Kremlin 'regrets' lack of Nord Stream probe by UN
Moscow has pledged not to let the incident slide despite a resolution failing to pass at the Security Council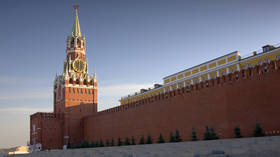 Russia will continue to push for an independent international investigation into the Nord Stream pipeline sabotage despite UN Security Council members failing to back a proposal by Moscow this week, Kremlin spokesman Dmitry Peskov has said.
"We believe everyone should be interested in an objective investigation, which would involve all stakeholders [and] every party that could help shed light on the organizers and executors of this terrorist act," Peskov stated on Tuesday. He added that Moscow will "keep up the effort not to let anyone allow this issue to slide into oblivion."
On Monday, Russia sought to pass a resolution which would have instructed the UN secretary general to conduct a "comprehensive, transparent and impartial international investigation" of the sabotage. Brazil, China, and Russia voted in favor of the draft document, while 12 other members of the UN Security Council abstained.
Opponents claimed that a UN-led investigation into the Nord Stream incident would undermine the national probes being conducted by Germany, Denmark, and Sweden. Berlin is a stakeholder because the Nord Stream 1 and 2 pipeline projects were built to pump Russian natural gas to Germany under the Baltic Sea. Sweden and Denmark are carrying out investigations as the explosions that ruptured the energy links happened in their territorial waters.
Last month, veteran investigative journalist Seymour Hersh claimed that the sabotage was a joint American-Norwegian operation ordered personally by US President Joe Biden. Hersh argued that Washington had wanted to lock in German support in the Ukraine conflict by preventing it from receiving deliveries of cheap fuel from Russia.
Washington and Oslo have denied the allegations, although Russian President Vladimir Putin stated last week that he "fully agreed" with Hersh's conclusions.
Vassily Nebenzia, Moscow's permanent representative to the UN, said after the failed vote that "the suspicion [about] who stands behind the Nord Stream sabotage will only increase."
You can share this story on social media: