Ukraine criticizes UN human rights body
Kiev is unhappy with a report which found its crackdown on the Ukrainian Orthodox Church may be discriminatory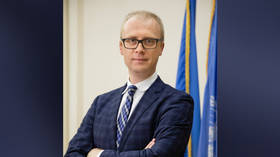 The UN's human rights watchdog should "refrain from unbalanced political assessments," a spokesman for the Ukrainian Foreign Ministry has demanded, following a report that questions Kiev's treatment of the largest religious denomination in the country.
"Ukraine is a democratic nation, where freedom of religion is guaranteed. But freedom does not equate to a right for activities that undermine national security," Oleg Nikolenko told Ukrainian media on Monday. He urged the UN to "base its reports on facts."
Last Friday, the UN's Office of the High Commissioner for Human Rights (OHCHR) released a report expressing concern about the crackdown on the Ukrainian Orthodox Church (UOC), which has historic links with the Russian Orthodox Church.
The SBU, Ukraine's domestic security agency, has targeted UOC clergy and property in a series of raids over the past several months. The secret service claimed that churches could be hiding weapons and saboteurs and that the UOC served as an arm of the Russian government. The UN body said it was "concerned that the State's activities targeting the UOC could be discriminatory."
The OHCHR also mentioned several bills introduced in the Ukrainian parliament which were apparently aimed at undermining the UOC. Sponsors of the proposed legislation used "vague legal terminology" and failed to provide "sufficient justification," according to the report.
The UN warning came days before monks belonging to the UOC are supposed to leave their homes at the Kiev Pechersk Lavra, an iconic monastery in the Ukrainian capital.
The Culture Ministry has refused to renew their lease of the property, which is owned by the state. Minister Aleksandr Tkachenko indicated that the monks could stay, provided that they abandon the UOC and join the Kiev-approved Orthodox Church of Ukraine. President Vladimir Zelensky, meanwhile, has made clear that he supports the ouster, which he claimed would strengthen the "spiritual independence" of the country.
You can share this story on social media: