EU warns of response to Belarus nuclear move
The bloc will apply sanctions unless Minsk refuses to host Russian tactical arms, Josep Borrell announced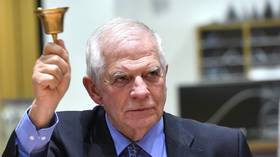 The EU will respond with further sanctions if Belarus presses ahead with plans to host Russian nuclear weapons on its soil, the bloc's top diplomat, Josep Borrell, has stated.
"Belarus hosting Russian nuclear weapons would mean an irresponsible escalation and threat to European security," Borrell tweeted on Sunday. "Belarus can still stop it, it is their choice," he continued, adding that "the EU stands ready to respond with further sanctions."
Russian President Vladimir Putin revealed on Saturday that tactical nuclear weapons will arrive in Belarus as early as this summer. Putin said that he made the decision after the UK announced it would transfer toxic depleted uranium munitions to Ukraine, a move he described as "absolute recklessness."
Belarus has already been extensively sanctioned by the EU and US since the start of Russia's military operation in Ukraine last February. Brussels has blacklisted more than 20 Belarusian officials, cut five of the nation's banks off from the SWIFT system, and imposed numerous trade restrictions.
Prior to 2022, the EU banned Belarusian flights from operating in its airspace and imposed five separate sets of sanctions in response to President Alexander Lukashenko's 2020 election victory, which the EU deemed fraudulent.
In his announcement on Saturday, Putin explained that any nuclear weapons transferred to Belarus would remain under Russian control.
"There is nothing unusual [about this arrangement]," Putin stated, explaining that "the United States has been doing this for decades" by keeping its own nuclear weapons in Belgium, Germany, Italy, the Netherlands, and Türkiye.
"They have long deployed their tactical nuclear weapons on the territory of their allies," he said. "We agreed that we will do the same, without violating our international obligations on the non-proliferation of nuclear weapons."
You can share this story on social media: