Ceasefire deal in Nagorno-Karabakh violated – Russian MOD
Azerbaijani troops crossed the contact line in the disputed region, Moscow has confirmed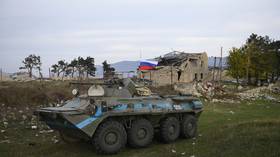 Baku's forces have violated the Russian-brokered 2020 peace deal between Azerbaijan and Armenia, the Russian Defense Ministry said on Saturday.
Russian peacekeepers stationed in the disputed Nagorno-Karabakh region are now investigating the incident, the ministry added.
On Saturday, an Azerbaijani military unit crossed the contact line set by the 2020 deal and seized a high ground area, the statement issued by the ministry said. The Azerbaijani forces then started field works in the area.
The peacekeepers demanded that Azerbaijan pull back its troops in accordance with the peace deal. "The Russian peacekeeping force commanders are taking measures to prevent the crisis escalation and stop the warring parties from launching… provocations," the ministry's statement said, adding that a patrol was also sent to the area.
It is unclear if the Azerbaijani troops complied with the peacekeepers' demands as of Saturday evening. Baku and Yerevan have been locked in a decades-old dispute over Nagorno-Karabakh, which is part of Azerbaijan but has a mainly ethnic Armenian population.
Nagorno-Karabakh declared independence from Baku in the early 1990s and has since enjoyed support from Yerevan. In 2020, the two nations fought a 44-day war, which ended in a truce brokered and monitored by Russia. Moscow sent a peacekeeping force to the area as part of the deal.
The conflict has since seen sporadic flare-ups resulting in border clashes. A major outbreak occurred last September and claimed the lives of dozens of soldiers on both sides.
The agreements brokered by Russia include the delimitation of the two nation's borders, the opening of transportation routes, and the establishment of contacts between civilian groups, lawmakers, and religious leaders from the two countries. Moscow has said it is ready to further contribute to the peace process.
The incident comes just days after Armenian Prime Minister Nikol Pashinyan announced that a peace deal would be struck, adding that there would not be another escalation.
You can share this story on social media: