Ukraine inflated foreign mercenary numbers – NYT
The newspaper's story is the latest of many tales of corruption and incompetence to surface from the volunteer unit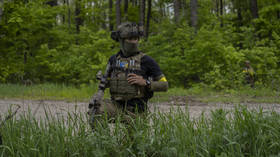 The true number of recruits that signed up for Ukraine's International Legion was several times smaller than the figure touted by officials in Kiev, the New York Times reported on Saturday. Additionally, some of the most high-profile mercenaries used their position to lie and profiteer from the conflict.
Within two days of Russian troops entering Ukraine last February, President Vladimir Zelensky put out a call for international recruits to bolster his military's ranks. One week later, Ukrainian military intelligence chief Kirill Budanov told CNN that 20,000 recruits had applied to join the newly-formed International Legion.
However, "far fewer actually enlisted," the New York Times reported. Citing "people with knowledge of the Legion," the newspaper stated that there are currently around 1,500 members in its ranks, and that "internal documents show that the legion is struggling."
The Times did not specify how many International Legion members have been killed in action. The Russian Ministry of Defense claimed last March that it killed "up to 180" foreign mercenaries in a missile strike on a base near Lviv, and that dozens more were killed in a similar strike on a base near the Belarusian border a week later. By the end of the month, Moscow claimed to have eliminated 600 foreign fighters in Ukraine.
Since the early days of Russia's military operation, the number of mercenary groups operating in Ukraine has increased, as has the profile of some of the mercenaries themselves.
James Vasquez, a home-improvement contractor from Connecticut, amassed thousands of Twitter followers and solicited donations by posting battlefield updates from Ukraine. Vasquez deleted his social media accounts last week after the Times discovered he had lied about his service in the US military.
Vasquez used his online persona to promote another American volunteer, former US Marine Ripley Rawlings, who raised over $1 million in donations to buy equipment for Ukrainian troops. However, some of these purchases were carried out without proper US State Department authorization, while other shipments of gear never showed up in Ukraine.
Donors were similarly misled by Grady Williams, the Times reported. A retired engineer and former methamphetamine user, Williams raised around $16,000 in Georgia to buy motorcycles for the Georgian Legion, half of which he spent on himself before he was forced out of the mercenary group.
Andy Milburn was one of the most prolific mercenary leaders in Ukraine, and Western media outlets gave his 'Mozart Group' (a play on Russia's 'Wagner Group' private military company) extensive coverage last year. He is now accused in a lawsuit by the group's co-founder of embezzlement, sexual harassment, and arms trafficking.
These examples cited by the Times are not new. RT has covered Milburn's legal drama and other stories of fraud and abuse from within Ukrainian volunteer units since the beginning of the conflict. However, the Times' reporting has apparently triggered strife among Vasquez, Ripley, the Legion, and some of its former members, all of whom "escalated their feud" and "accused one another of misappropriating funds and lying about their credentials" after the newspaper contacted them.
You can share this story on social media: