Ukraine planning major attack on new Russian territories – Bild
The German newspaper has cited an unnamed NATO official as claiming that Kiev is preparing to strike in Zaporozhye and Lugansk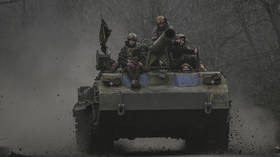 The conflict between Russia and Ukraine is approaching a decisive period, with Kiev aiming to re-take Moscow's new territories this spring, Germany's Bild newspaper has reported. The tabloid cited an anonymous NATO source who claimed the bloc is providing Ukraine with everything it needs to sever the so-called 'land bridge' to Crimea.
In a report on Tuesday, Bild quoted a "leading" NATO official as stating that the alliance's analysts expect the conflict to reach a climax in the spring and summer. The official expressed confidence that heavy weaponry being delivered to Ukraine will be brought to bear in several counteroffensives as early as May.
"The coming six months will be a key period in the war not only for Ukraine, but also for the allies," the unnamed source predicted.
While refusing to go into detail regarding planned operations, the official asserted that Ukrainian forces will focus their efforts on the regions of Zaporozhye and Lugansk.
The main objective of the offensives will be to "sever the land bridge to Crimea," the NATO source added.
The official claimed that Ukraine is likely to mount counteroffensives in other regions as well, which will either be genuine or merely serve as distractions to preoccupy the Russian military.
According to the Bild report, NATO is not ruling out a scenario in which Ukraine would attempt to retake Crimea, which joined Russia in 2014 following a referendum.
"Kiev has the right to recapture all Ukrainian territory," the official insisted.
In an effort to ensure the new offensives are successful, Kiev's backers are reportedly providing it with intelligence data as well as training, logistical support and weapons.
Speaking to the Polish newspaper Rzeczpospolita on Monday, Czech President Petr Pavel said that the "window of opportunity" for Ukraine would only be open until the end of this year.
The former general, who served as chair of the NATO Military Committee until 2018, argued that with elections approaching in the US in 2024, Washington is likely to reduce defense aid to Ukraine. Pavel said he expected European nations to follow suit.
"Ukraine will only have one attempt to launch a major counteroffensive," the Czech president claimed, adding that should this effort fail, "it will be extremely difficult to obtain funds for the next one."
You can share this story on social media: