Fire engulfs security service building in major Russian city
An FSB border-guard service facility in Rostov-on-Don became engulfed in flames, reportedly killing one person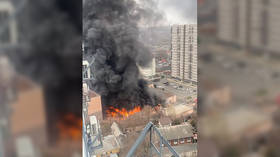 A huge fire has broken out in the building of the Russian Federal Security Service's (FSB) border guard in the port city of Rostov-on-Don. Clouds of thick black smoke could be seen billowing from the city center on Thursday morning, as residents published video footage of the blaze on social media.
Rostov Region Governor Vasily Golubev has released a statement confirming that the fire started in the utility rooms of the FSB facility. He added that it is currently believed that the cause was a short-circuit in electrical wiring inside the building, the fire from which then spread to containers with fuel and lubricants, causing a series of explosions.
The blaze has spread to an area of 800 square meters, resulting in the collapse of some of the facility's walls, the governor said, adding that 14 fire trucks and 63 emergency service workers are currently involved in extinguishing the blaze.
Golubev also stressed that there is no threat of fire spreading to neighboring apartment buildings, but stated that, for safety reasons, residents are being evacuated. He added that investigations into the incident are underway.
The FSB later also confirmed that the fire occurred at 12.20pm local time, resulting in the ignition of fuel and lubricants, which led to an explosion and the partial destruction of the building.
The TASS news agency later reported, citing sources in the emergency services, that the fire had been extinguished some three hours after it initially broke out. Workers are now clearing out the rubble left behind by the incident, the outlet said.
Earlier, TASS said that some 20 fire departments had been dispatched to the scene. The outlet had also reported that one person lost his life in the incident and that two others were injured, according to emergency services.
Rostov-on-Don is one of the largest cities in Russia's Southern Federal District, with a population of over one million. It lies at the southeastern end of the Don river, about 50 kilometers away from where the river meets the Sea of Azov. The port city is also located next to the Lugansk and Donetsk people's republics, which became part of Russia in September of 2022.
You can share this story on social media: