Russia blasts Canada over 'regime change'
Ottawa's top diplomat declared that her country aims to "weaken" Moscow by any means necessary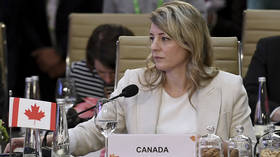 Canada's foreign minister has said her country aims not only to "isolate" Russia economically and diplomatically, but to topple its government outright, prompting a harsh rebuttal from Moscow.
Responding after Canadian Foreign Affairs Minister Melanie Joly said Ottawa is seeking "potential regime change in Russia" in comments to reporters last week, Moscow's Ambassador to Canada Oleg Stepanov asked how Western nations would respond if the roles were reversed.
"Quite perplexed to hear from Canadian Foreign Minister Melanie Joly that her goal is 'regime change' in Russia. Is this how she instructs the Canadian Embassy in Moscow?" Stepanov said on Monday. "And by the way, what reaction would we expect if, for example, someone in Moscow had said that Russia's goal is 'regime change' in Ottawa?"
In a separate statement, the envoy added that "What [Joly] or other decision-makers in Ottawa don't want to recognize is that the current Russian policy is supported by the ultimate majority of the nation."
When Joly was asked to clarify her comments during the same briefing, she argued that she differentiates "between the regime and the people of a given country," but reiterated that Canada's goal is "definitely" to "weaken Russia's ability to launch very difficult attacks against Ukraine," also calling to ensure that President Vladimir Putin and other high-ranking Russian officials are "held to account."
The Russian Foreign Ministry also weighed in following Joly's remarks, noting that the FM had declared that "regime change in Russia" is now an official Canadian foreign policy goal. "Sorry to see the ruling liberal clique having subdued Canada with decadent anti-family, pro-drug [policies] and support for Ukrainian Neo-Nazis," it added.
The foreign minister's 'regime change' statement came soon after Ottawa announced a new ban on imports of steel and aluminum from Russia. According to data from the Department of Industry, however, Canada imported just $79 million in steel from the country last year, and a slightly higher $208 million in 2021, figures dwarfed by billions in steel purchases by nations such as Turkey and Mexico, which have maintained closer ties with Moscow despite a Western sanctions campaign seeking to cripple Russia's economy. As the world's second-largest aluminum producer after China, Russia has vowed to respond to such sanctions by redirecting exports to alternative markets in Asia and elsewhere.
You can share this story on social media: