Action movie icon says he's 'million percent' Russian
Being Russian means standing for the truth and fighting for it, Steven Seagal says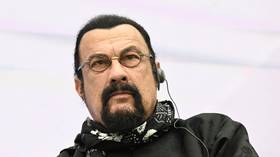 Movie star Steven Seagal made an appearance at the inaugural meeting of the International Russophile Movement in Moscow on Tuesday, claiming he was actually "a million percent Russian" himself. The actor received Russian citizenship back in 2016 and currently serves as a special envoy of the Russian Foreign Ministry on humanitarian relations between Moscow and Washington.
Speaking at a press conference following the event, Seagal said that roughly half of Americans still "love" Russia despite the ongoing international turmoil. The actor also spoke about his ancestry – his grandfather immigrated to America from Russia – revealing what it means for him to be Russian.
"To be Russian is to stand for the truth, to fight for the truth. ... I can say that I am one hundred percent Russophile and a million percent Russian," Seagal stated.
On the sidelines of the event, the actor also spoke to RT, commenting on the Order of Friendship recently awarded to him by Russian President Vladimir Putin. The Order is among the top Russian honors, awarded to foreign nationals for achievements in fostering international cooperation.
"I was tremendously honored. I think President Putin was extremely kind to do that. I was tremendously honored, I hope to live up to that," he said.
Seagal also touched upon the ongoing hostilities between Russia and Ukraine, speaking of his trip to Donbass last year. The trip became an important experience for him, Seagal said, explaining that an overwhelming majority of those covering the dramatic events actually have no first-person knowledge of the situation.
"When I realized that 99% of the news that was being told to the world was being told by people who had never been to Donbass, never been to Lugansk, never been to Ukraine, I thought it would be important to be able to go there, interview Ukrainians, interview Russians, and let people tell their truth." Seagal told RT.
The International Russophile Movement, which came into being on Tuesday, is largely based on an idea once floated by Bulgarian politician Nikolay Malinov, who is well-known for his sympathies towards Russia. In his address to the participants of the event, President Putin said the emerging movement of Russophiles is based upon the "long-standing traditions of friendship and mutual respect that connect Russians with other peoples.
"We highly appreciate your firm determination to resist the russophobic campaign, your desire to develop dialogue and mutually beneficial humanitarian cooperation," Putin said in a statement carried by the Kremlin press service.
You can share this story on social media: