Russia shares Nord Stream communications with UN – top diplomat
Germany, Denmark and Sweden have allegedly failed to keep Moscow informed about their investigations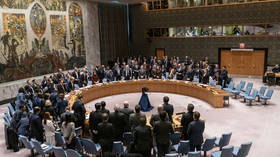 Russia has released its communications with Denmark, Sweden and Germany regarding the Nord Stream sabotage to members of the UN Security Council, a senior diplomat has said.
"Those documents allow our colleagues at the UN to confirm that the claims by these nations that they were informing us about their investigations are not true," Dmitry Polyansky, the deputy head of the Russian mission to the UN, explained on Tuesday.
He announced Russia's intention to share the messages with the Security Council last week, as Moscow pushes for an impartial UN-backed investigation into the incident.
The Nord Stream pipelines, which were built to supply Russian natural gas directly to Germany under the Baltic Sea, were blown up in late September. Germany, as well as Denmark and Sweden, in whose territorial waters the sabotage took place, are conducting separate probes into the incident. Russia's requests to participate in the investigations have been rejected.
While the Western media were initially quick to accuse Russia of destroying its own infrastructure, European investigators reportedly found no evidence to support this theory. Moscow claimed the US was the party that benefited most from the "terrorist attack."
Veteran investigative journalist Seymour Hersh reported last month that the operation to destroy the Russian-German gas link had been ordered by US President Joe Biden and conducted by a joint US-Norwegian team. Both nations have denied the allegation.
A series of reports in Western media last week suggested an alternative explanation, involving a private "pro-Ukrainian group," possibly funded by a wealthy Ukrainian individual, planting explosives on the pipeline from a rented yacht. The group was not connected to any government, according to the reports.
Nikolay Patrushev, the secretary of the Russian national security council, argued that this theory could only convince people who "cannot think logically," considering the specialized equipment and expertise that the sabotage of Nord Stream required.
Polyansky warned that if the international community does not get to the bottom of the incident and hold the culprits accountable, a new dangerous age may dawn, in which nations consider clandestine attacks on their rivals' critical infrastructure permissible.
You can share this story on social media: