US returns ancient weapons to Ukraine
Customs officials seized three swords and a stone ax head in New York several months ago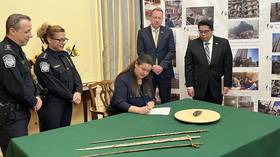 American authorities have handed over a cache of ancient weapons to the Ukrainian embassy in Washington DC. It is unclear who tried to smuggle the artifacts into the US.
Three metal swords and a stone ax head were handed over on Friday, the embassy announced in a tweet. The Ukrainian mission thanked US authorities for helping to "repatriate our cultural property and a part of our history."
The items were seized by US Customs and Border Protection (CBP) officers at a mail facility in New York's John F. Kennedy International Airport in September, the CBP said in a statement on Friday. The swords arrived from Russia and the ax from Ukraine, the agency said.
Although the swords were posted from Russia, all the items "were identified as Ukrainian cultural property by representatives from the Ukrainian government," the statement read. CBP did not say who had sent them, or explain the circumstances of their apparent theft.
Swords and axes might not be the only weapons recently smuggled out of Ukraine. Modern arms – including missile launchers and other "high-precision weapons" – provided to Kiev by the US and its allies have been sold on the black market to criminals and terrorists, Russian President Vladimir Putin said last year.
Referencing reports of Western arms shipments going missing inside Ukraine, Russian Foreign Ministry spokeswoman Maria Zakharova claimed in October that up to $1 billion worth of these weapons are funneled from Ukraine to the Middle East, Africa, and Southeast Asia every month.
You can share this story on social media: