Georgian PM accuses Ukraine of stirring unrest
Irakli Garibashvili has lashed out at Vladimir Zelensky for rallying support for the mass protests in Tbilisi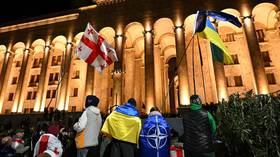 Kiev played a role in last week's unrest over controversial foreign agents legislation in Georgia, Prime Minister Irakli Garibashvili has claimed, urging Ukrainian President Vladimir Zelensky to take care of his own country instead of fueling riots in Tbilisi.
The prime minister made the remarks in an extensive interview with the Imedi TV channel that aired on Sunday.
Garibashvili strongly condemned the support expressed by Zelensky towards the protesters, accusing him of yet again trying to open a "second front" against Russia in Georgia. Earlier this week, Zelensky issued a video address to Georgians, stating that every Ukrainian wishes a "democratic" and "European success" to the country.
"An even greater escalation of hostilities is expected in Ukraine, and many external forces are interested in opening a 'second front' on Georgian soil. How else to explain that the President of Ukraine Zelensky, during the conflict in his country, finds time to appeal to several thousand participants of a destructive action in Georgia?" Garibashvili wondered, urging the Ukrainian leader to "[take] care of himself and his country" first.
Moreover, Garibashvili accused Kiev of long seeking to destabilize Georgia, with such efforts apparently predating the ongoing conflict between Russia and Ukraine. In particular, Kiev deliberately sent ex-Georgian president-turned Ukrainian official Mikhail Saakashvili back to his home country in October 2021 to stage a "coup," he asserted.
"Saakashvili was sent in deliberately, the main goal was to stage a coup here and drag the country into war at the right time. We don't doubt it today," Garibashvili stated.
The PM also claimed that "a few dozen" Georgian fighters returned from Ukraine amid the unrest over the foreign agents law and urged them to have no "illusions" over the situation in the country. "We know significantly more than they could imagine," he warned, adding that no "second front" will materialize while the ruling Georgian Dream party remains in power.
Over the course of the ongoing hostilities with Russia, Ukrainian officials have repeatedly criticized Tbilisi over its neutral stance, urging it to open a "second front" against Moscow instead. One such call was made early in the conflict by Ukraine's secretary of the National Security and Defense Council, Alexey Danilov, who accused Georgia of "behaving not very appropriately" at the time. The official openly admitted that a potential new conflict over South Ossetia and Abkhazia, which broke away from Tbilisi in the 1990s and were recognized as independent by Russia in the aftermath of the 2008 war, "would definitely help us."
You can share this story on social media: