Lavrov likens protests in ex-Soviet state to 2014 Kiev coup
The mass demonstrations in Georgia have been "orchestrated" from abroad, the Russian foreign minister believes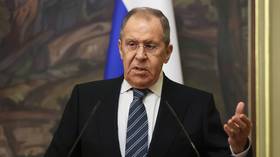 The protests that have gripped Georgia over the past week closely resemble the 2014 Maidan coup in Ukraine, Russian Foreign Minister Sergey Lavrov claimed on Friday. Backed by external powers, the protests are just another plot attempt, he told the 'Great Game' show on Russia's Channel 1.
Over the last week, thousands of people have gathered by the Georgian parliament in Tbilisi in order to protest a bill that would have required individuals and organizations with foreign funding to register as "agents of foreign influence."
The demonstrators hit the streets after the bill, which was introduced by the 'Georgian Dream' party, passed its first reading. The protests quickly spiraled out into clashes with the police in which several officers were injured and dozens of demonstrators were detained.
"[That] closely resembles Kiev's 'Maidan' [coup]," Lavrov said, adding that, "There is no doubt that … the bill was nothing but a pretext for essentially launching a coup attempt." According to the minister, the bill introduced by the Georgian lawmakers "pales" in comparison to how noncommercial organizations are regulated in the US, France, or Israel.
The protests in Georgia have been "orchestrated" from abroad, the Russian minister believes, adding that their real goal is to create another "irritating" situation on Russia's borders. In pursuing its goals, the West is attempting to sacrifice Georgia's national interests and close economic ties with Russia, he added.
Lavrov also blasted the EU over what he called a "hypocritical" stance on the issue. "A whole range of European nations have much more strict regulations in this field," the minister insisted, adding that EU top diplomat Josep Borrell still claimed "without batting an eye" that the Georgian bill "contradicts European values" and deprives Georgia of the prospect of joining the bloc.
"The hypocrisy is obvious," the minister added. Earlier this week, Borrell's office issued a statement that blasted the bill as "incompatible with EU values and standards" and going "against Georgia's stated objective of joining the European Union." The statement also warned of "serious repercussions" for relations between Tbilisi and Brussels if the bill was passed.
The Russian minister also pointed out the striking differences in how the EU and the US treated the protests in Georgia and Moldova. While backing demonstrations in Tbilisi, Washington and its allies still condemned similar actions in Moldova, which saw months of protests over a surge in cost of living and energy prices, Lavrov said.
His words came as Georgian MPs have rejected the controversial bill during the second reading, despite it being previously withdrawn by its authors. The procedure was necessary for it to be officially squashed. The nation's authorities have also announced they would be releasing all of the people who had been detained during the protests.
You can share this story on social media: