Russian Jews call for 'Holocaust' reform
The word should be capitalized in Russian and used exclusively for WWII atrocities, a Jewish organization has argued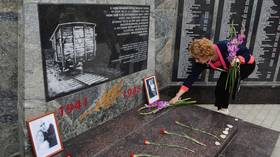 A Russian Jewish organization has urged national language officials to change the rules for how the word 'Holocaust' is used in the country's press. It should exclusively refer to the extermination of Jews during World War II and spelled with a capital letter, it said.
The Russian Jewish Congress explained the suggestion in a statement on Thursday, reacting to the media coverage of the Holocaust commemoration week in January.
"The Holocaust is not a synonym for genocide. It's a particular term for the mass slaughter of Jews by the Nazis during World War II," the organization's spokesman, Mikhail Savin, explained to the Russian media.
As any proper noun in Russian, it should be capitalized, the congress said, asking the relevant bodies in the Russian Academy of Sciences to offer their expert opinions on the matter.
Formalizing the proposed use will serve to respect the memory of the victims and prevent diluting the term, the organization argued. Treating the word any differently undermines the heroism of those who hid Jews during the Nazi occupation, fought to liberate prisoners from death camps, and otherwise helped make the death toll from the Holocaust somewhat lower, it added.
The congress said it expected discussions on the matter to take some time, and asked journalists to adopt its preferred version before the academy reached a conclusion.
The word 'Holocaust' originates from a Greek word for a burned sacrifice and was adopted when the Bible was translated into Greek to describe religious rites specific to Jews. It was popularized during the 20th century through the English language as a poetic term for various instances of mass murder and genocide.
Many Jewish communities prefer the Biblical Hebrew word Shoah (calamity) for the tragedy that befell the Jewish people.
You can share this story on social media: