Billionaire fraudster who 'stole Russia' dies aged 56
Sergey Grishin once boasted that he "practically brought the Russian banking system to collapse" in the 1990s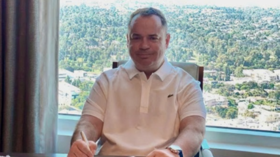 Notorious Russian banker and fraudster Sergey Grishin has died in the US, aged 56. Grishin confessed in 2018 to masterminding a scheme to defraud Russian banks of tens of billions of dollars.
Grishin was admitted to hospital following a brain circulation issue last month, and died on Monday, Baza, a Russian news outlet, reported on Wednesday.
The 56-year-old tycoon was well known in the West for selling his $15 million mansion in Santa Barbara, California, to Britain's Prince Harry and wife Meghan Markle in 2020.
In his native country, however, Grishin was known as one of the most notorious fraudsters in recent history. In 1994, as the Russian economy was reeling from Boris Yeltsin's shock privatization policies, Grishin and a business partner bought Lubyanka Bank and renamed it Rosevrobank. Grishin then embarked on a scheme whereby he forged advice notes informing the Russian Central Bank of a fictional cash deposit to his bank, and then laundered the money in foreign countries before the loss was noticed.
"I practically brought the Russian banking system to collapse in the 1990s," Grishin said in a video message to US authorities in 2018. "It was the biggest scam ever because no one knew exactly how much money was stolen. I found the right people in the Central Bank of the Russian Federation and in Estonian banks. On behalf of the Estonian banks, I made a duplicate advice note, as if the original had been lost. The amount in the advice note was whatever I wanted. It was completely fake and was not backed up by anything."
According to Russian news site Life, Grishin's scam and others like it resulted in the loss of around four trillion rubles ($52.3 billion in 2023).
In another 2018 video message, Grishin said that he used forged checks to "rob the Russian banking system for a second time." This scheme involved having a bank sign a check for a certain amount with a "magic pen" that could later be erased and edited before the check was cashed or deposited in a different bank. Rosevrobank was also engaged in a $20 billion money laundering operation between 2011 and 2014, according to the Organized Crime and Corruption Reporting Project.
Grishin moved to the US in 2008. He was not a US citizen, however, and recorded the messages in an attempt to convince then-president Donald Trump to grant him citizenship. Warning of a vague "threat" to the US in one recording, he urged Trump to personally give him and his wife US citizenship, stating that the US "is my real homeland, but due to a stupid mistake I was born in Russia."
You can share this story on social media: