Zelensky explains why he's so determined to hold key Donbass city
Russian troops will have a foothold for a new offensive after they take Artyomovsk, the Ukrainian president said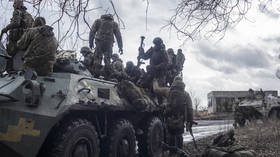 Russian forces will have an "open road" to more Kiev-held parts of Donbass if they win the fierce battle for the city of Artyomovsk, Ukrainian President Vladimir Zelensky said in an interview aired by CNN on Tuesday.
He denied claims that his top general had urged him to withdraw troops from the area.
The fight for Artyomovsk, known in Ukraine as Bakhmut, has been raging since August. The stronghold is a logistics hub and major foothold for Kiev's soldiers in the Donetsk People's Republic. Zelensky told CNN's Wolf Blitzer that the battle was "tactical for us."
"We understand that after Bakhmut they could go further. They could go to Kramatorsk, they could go to Slavyansk, it would be [an] open road for the Russians after Bakhmut to other towns in Ukraine, in the Donetsk direction."
Zelensky suggested that if the city falls to Russian forces, it will help "mobilize their society" and bolster domestic support for the Russian army.
On Monday, German newspaper Bild cited Ukrainian government sources as saying that General Valery Zaluzhny, Ukraine's top commander, called for a withdrawal weeks ago. Zelensky's office released a statement the same day maintaining that the top brass, including Zaluzhny, backed the decision to carry on the defense of the city.
Speaking to CNN, Zelensky denied that he was at odds with his commanders. "I never heard anything like that," he said, claiming that such reports were "created in the Russian Federation."
On Wednesday, Evgeny Prigozhin, the head of the Russian private military company Wagner Group, said his fighters had gained full control of the eastern part of Artyomovsk, which is separated from the rest of the city by the Bakhmutka River. Prigozhin stated earlier that Russian soldiers had practically surrounded Artyomovsk, with only a single road available for Ukrainian forces to move in and out.
US Secretary of Defense Lloyd Austin claimed earlier this week that Artyomovsk's importance was more symbolic than operational. However, Russian Defense Minister Sergey Shoigu said that taking the city would allow for "further offensive actions" against the Ukrainian forces.
You can share this story on social media: