Dozens arrested in Georgia riots
Crowds take to the streets to protest against a bill on foreign agents that the opposition has compared to a Russian law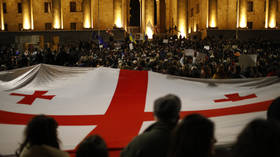 Dozens of protesters were arrested in Georgia during Tuesday's demonstrations in the capital, Tbilisi, against a draft law on foreign agents, the Interior Ministry said on Wednesday.
The ministry said police detained 66 people for "petty hooliganism and disobedience to the legal demands" of the authorities, and pledged to assess the legal consequences for those who helped a peaceful protest to spiral out of control.
It added that "the violent actions" of protesters left about 50 officers injured, with several hospitalised and in need of surgery. The ministry said that during the clashes, "civilians were also injured," without providing further details.
The Interior Ministry claimed that its officers repeatedly called on protesters to stand down, but to no avail, so the police "were forced to consistently use proportional force and special means of coercion" to restore order.
However, Georgian opposition lawmaker Giorgi Vashadze called the police response "disproportionate." Talking to journalists, he announced that another rally would take place in front of parliament in Tbilisi later on Wednesday, which he claimed would attract even more people than on Tuesday.
The clashes between the police and protesters erupted on Tuesday after the Georgian parliament voted in favor of a bill requiring any organization receiving more than 20% of its funding from abroad to be registered as a foreign agent.
The initiative outraged the Georgian opposition, which denounced the bill as Russian-style and claimed that its passing would mark a "dark day for democracy." A comparable law was passed in Russia in 2012, which bears similarities to the American Foreign Agents Registration Act (FARA), passed in 1938.
Tbilisi's proposed legislation has sparked strong reactions both at home and abroad. Georgian President Salome Zurabishvili has said that she would veto the bill if it were passed, while voicing support for the protesters. EU foreign policy chief Josep Borrell described the initiative as contrary to EU values, while the US said it might impose sanctions on the Georgian government over the proposed law and handling of the protests.
You can share this story on social media: