Russian defense minister outlines importance of key Donbass city
Taking control of Artymovsk would allow offensive actions deep into the Ukrainian armed forces' positions, Sergey Shoigu said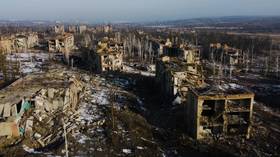 Russia continues its efforts to take control of Artyomovsk –known in Ukraine as Bakhmut– Russian Defense Minister Sergey Shoigu announced on Tuesday, noting that the city is an important defense hub for Kiev's forces in Donbass.
"Taking [Artyomovsk] under control will allow further offensive actions deep into the defense of the Armed Forces of Ukraine," he explained.
Artyomovsk has seen some of the most brutal fighting amid Russia's ongoing military campaign in Ukraine. As well as being a stronghold for Ukraine's forces, the city is part of a 70-kilometer line of defense created by Kiev since it initiated the fighting in Donbass in 2014.
In a months-long campaign, Russian forces have systematically captured settlements around the city and have been surrounding Artyomovsk from the north, south, and east.
Ukrainian President Vladimir Zelensky, meanwhile, has repeatedly insisted that he would not surrender the city, despite his Western backers and military advisers reportedly urging him to cut his losses and withdraw.
Shoigu also reported on Tuesday that Russian forces have liberated the settlements of Nikolaevka, Dvurechnoe, Krasnaya Gora, Gryanikovka and Paraskovievka, and stated that the "American strategy of 'breaking Russia by force of arms'" had failed.
"Western countries are increasing the supply of weapons and military equipment to Ukraine, expanding training programs for Ukrainian army personnel," said Shoigu. "At the same time, the support of the Kiev regime by NATO countries is not leading to the success of Ukrainian troops on the battlefield," he added, noting that Kiev's losses have significantly increased.
According to the minister, in February alone the casualties suffered by Ukraine's armed forces increased by more than 40% compared to January and amounted to over 11,000 servicemen.
"In this regard, the Kiev regime's indifference towards its people is surprising" Shoigu noted, adding that Kiev doesn't seem to care how many people die for the benefit of its Western backers.
Russia's priority, on the other hand, remains the preservation of the life and health of personnel and civilians, the minister stressed.
You can share this story on social media: