Russia bans Soros-funded NGO
Germany-based Transparency International has been designated as a threat to constitutional order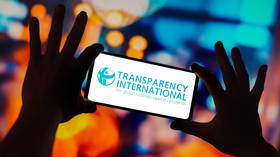 The Prosecutor General's Office has declared Transparency International unwelcome in Russia, describing the Berlin-based organization on Monday as going beyond its mandate to interfere into the country's internal affairs.
"It has been established that the activities of this organization clearly go beyond its declared goals and objectives," the office said in a statement. "Formally acting as an organization fighting corruption around the world, it interferes in the internal affairs of the Russian Federation, which poses a threat to the foundations of its constitutional order and security."
The Russian chapter of Transparency International was declared a foreign agent in 2015. Monday's decision means Russian nationals could face prison time if they worked for the organization, and penalties for giving it financial aid or disseminating its materials.
Founded in 1993 by a group that included former World Bank officials and US intelligence operatives, Transparency is best known for its annual 'Corruption Perception Index' (CPI), which ranks countries on a scale of their perceived propensity for graft. It lists among its donors a plethora of Western government agencies and powerful trusts, including Open Society Foundations, the network of controversial businessman and sponsor of neoliberal causes, George Soros.
The organization withdrew the accreditation of its US chapter in 2017 over "differences in philosophies, strategies, and priorities." TI-USA was widely criticized for being a front for multinational corporations, giving its Integrity Award to then-US secretary of state Hillary Clinton in 2012 and blocking calls to help NSA whistleblower Edward Snowden in 2013.
Transparency International Brazil is currently under investigation for alleged collusion with prosecutors in the 'Car Wash' scandal, which was used to convict former president Luiz Inacio Lula da Silva on trumped-up corruption charges. Da Silva's conviction was later thrown out and he won the 2022 election.
You can share this story on social media: