Ukraine won't surrender besieged city – Zelensky's office
Media reports claim that the Ukrainian president had overruled advice to withdraw from the "de facto surrounded" Artyomovsk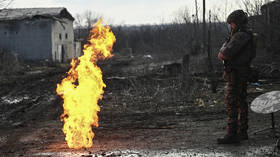 The office of Ukrainian President Vladimir Zelensky has said that senior military commanders have agreed to hold onto Artyomovsk – a key Donbass city, also known as Bakhmut– after German media outlets claimed a top general had encouraged a withdrawal.
On Monday Zelensky held a scheduled meeting of senior government officials responsible for the military during the conflict with Russia, a statement posted on his website said.
"The president asked the commander-in-chief of the Ukrainian armed forces Valery Zaluzhny [and another senior commander] about further action in the Bakhmut direction. They backed the continuation of the defensive operation and the further strengthening of our positions in Bakhmut," the statement read.
Earlier in the day, the German newspaper Bild claimed that Zelensky and Zaluzhny were at odds over the best course of action in the embattled city. The general advised the president to pull back troops weeks ago, but the suggestion was rejected, sources in the Ukrainian government told the tabloid.
Artyomovsk is part of a 70km (43 mile) Ukrainian defense line in Donbass and has seen intense fighting with Russian forces since late January. Both Kiev and Moscow have stated that the opposing side was suffering significant casualties around the city, as Russian troops advanced.
Last Friday, Evgeny Prigozhin, the head of the private military firm Wagner Group, claimed that the city was "de-facto completely surrounded" and called on Zelensky to order Ukrainian troops to evacuate.
According to Bild's sources, Ukrainian soldiers in Artyomovsk "do not understand why the city is being held" and believe they should have pulled back a long time ago.
The outlet also linked the reported argument between Zelensky and Zaluzhny with the latter's growing popularity, which might make him a viable opponent to Zelensky if he decides to run for office.
You can share this story on social media: